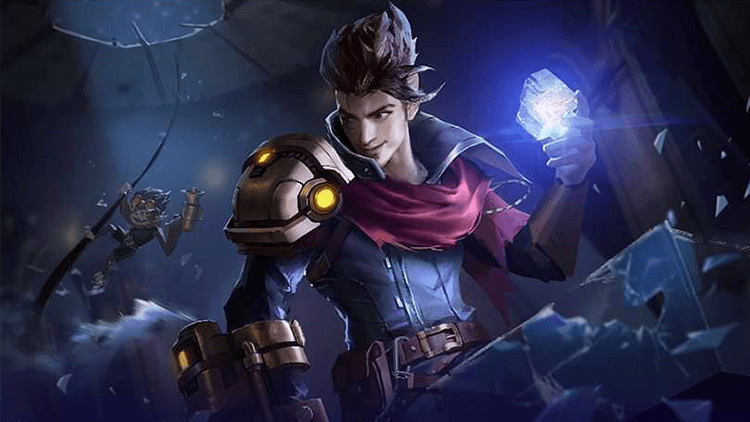 Have you ever felt intimidated by a very tall person in your life just by looking at them? Well Mobile Legends also has some tall and ferocious heroes you should look out for and they include the following:
Belerick
Belerick stands as one of the tallest Mobile Legends heroes among two characters measuring 5.4 cm. He is also known as the Guard of Nature and takes on the role of a tank standing tall and intimidating his opponents with his massive size and height. He is well renowned for his Regan/Poke speciality and just like an actual tank, he has high levels of durability as well as a serious offensive effect. With Belerick on your team, all the other characters will look like midgets before a high and mighty warrior capable of bringing the house down.
Thamuz
How does the Lord Lava sound to you? Pretty intimidating right? Also standing at 5.40 cm is a ferocious beast known as Thamuz. His terrifying and eruptive nature makes him an impeccable opponent against other heroes. He literally looks like he's about to explode and bring hell down upon those who dare challenge him. With his incredible height, he take on the role of a fighter, a true warrior, who has incredible durability in battles and highly effective offences. His skill effects are also a thing of beauty and destruction. One would think twice before challenging this giant.
Hanzo
"The strongest Ninja has arrived," is what Hanzo would say while standing at a staggering 5.10 cm, also making him the tallest ninja. He takes on the role of an assassin wielding a strong magical blade that can also transform into a terrifying portal-like mouth. His role is an assassin and once you see him in his full statute, you wouldn't question his exemplary Reap speciality. His offensive skills are off the charts and so making him one of the tallest lethal weapons in the game.
Balmond
Berserker the destroyer. He may ask for your name, but this isn't a simple gesture of courtesy but rather so he would know the name of his next victim. Standing at 5.00 cm this humongous giant wields a powerful weapon making him one of the tallest tanks around. One would think twice before blindly approaching this beast because his durability allows him to withstand all major forms of attacks while reciprocating with extreme offensive abilities. His speciality is the charge/Regen that will leave his opponents damaged beyond recognition. Balmond is a beast that brings destruction unto all that dare question his strength.
Ghatotkaca
The Mighty Legend with muscles of iron and bones of steel. Ghatotkaca is a legendary tank that stands at 5.00 cm tall and has incredible durability that allows him to withstand powerful attacks. He comes equipped with powerful dragon-like weapons on his hands that are sure to deal with some major offensive damage to his opponents. Ghatotkaca is definitely one of the best defensive strategies you could ever consider for your team.
Must Read: Top Fastest MARKSMAN in Mobile Legends