Hi there! This is Aneh and came with another exciting tutorial for the best character in Mobile Legends. In this guide, you are going to get the Alucard Legends Skin for free of cost and with sound effects. A simple tutorial that everyone can follow and steps similar to most of our previous guides, and you can read them from here.
Basically, Alucard is one of the best fighter heroes in the Mobile Legends: Bang! Bang! And you can improve his skills by following the best item builds out there. Even, he can defeat all the opponent team of 5 with his power when you are good at controlling.
When coming to these skin changes, there are no basic attack animation changes, but first, kill form will definitely surprise you. The second and ultimate skill animations have some drastic improvements. These will give the best user experience if your favourite character is Alucard.
Requirements
Steps to Unlock Alucard Legend Skin with Sound Effects:
Step 1. ZArchiver is a much-needed app for our tutorials. So, install the application from android Playstore.
Step 2. Once you have done setup with the ZArchiver file manager, go to our requirements section and then download Alucard Legend Skin Zip file.
Step 3. It will start downloading to your android device based on your internet speed.
Step 4. Now, file manger app and find the zip file. It typically found in the download folder on most of the android device if you use the Chrome web browser.
Or if you using some other web browsers, then you should search on respected folder.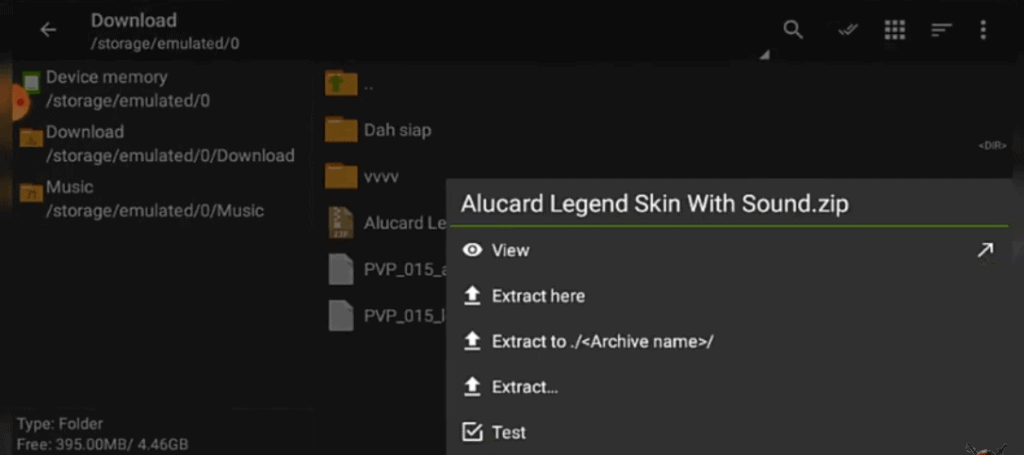 Step 5. Tap on the zip file and extract the folders what are inside.
Step 6. Now, you can see the Android folder there. Copy it.
Step 7. Go to this location /storage/emulated/0
Step 8. Tap on the paste green button.
Step 9. A prompt will ask you to rewrite. Then select the apply to all and click on the replace button.
That's all.
Open Mobile Legends and select the Alucard Hero. Boom! You have got the Legend skin with sound effects for free.
We are planning to add this skin to our AGInjector in the next update. Kindly be with patience if you are waiting for this skin on AG Injector android app.